Margaux
a featured wine
Our Margaux wines

Parker Score
hover

or click

for more
Wine
Vintage
Case size
Price/case
Cases
Margaux
1983
12×75cl
£4,250
1
96
90-100 is equivalent to an A and is given only for an outstanding or special effort. Wines in this category are the very best produced of their type. There is a big difference between a 90 and 99, but both are top marks. As you will note through the text, there are few wines that actually make it into this top category because there are not many great wines
Margaux
2012
6×75cl
£1,375
4
92-94
This quintessentially finesse-styled Margaux exhibits notes of pure black currants, spring flowers, graphite and forest floor. With supple tannins and medium body, this pretty, stylish effort reminds me of the 2001 or perhaps a modern day, improved version of their 1979. The lovely 2012 should be drinkable in 4-5 years and last for two decades.

Only about one-third of the total production made it into the 2012 Chateau Margaux, which is a blend of 87% Cabernet Sauvignon, 10% Merlot and the rest Cabernet Franc and Petit Verdot. Like many Medoc first-growths in this vintage, this estate-s aim was to make an elegant, supple-styled 2012 that emphasized the fruit, charm and delicacy of this terroir rather than pushing extraction and going for a powerhouse, which would have been difficult to produce in a vintage like 2012. The natural alcohol is 13%.

Don't see the Margaux you are looking for? Get in touch – we will track it down for you if at all possible
Château Margaux
A 1er Cru Classe from the 1855 Classification of the Medoc, whose famously grandiose chateau was constructed in 1804 and is today considered perhaps the most remarkable and imposing of all the Medoc chateaux. Chateau Margaux is located in the commune of the same name, which on occasion could lead to some confusion, as both it and generic wine are known commonly as Margaux, nonetheless, the average cost of the former will likely provide sufficient indication.
Viticulture has been an activity here since C16th and the current vineyard composition began to take shape at the beginning of C19th. The chateau changed has seen periods under English ownership following its capture during the Anglo-French wars (C18th) – during which time it was one of the four New French Clarets sold at the emerging London coffee houses – and was nationalised during the French Revolution. Meanwhile, Thomas Jefferson, in his famous trip of 1787 singled Margaux out as one of the 'four vineyards of first quality'.
In the C19th and C20th Chateau Margaux changed hands variously between differing French proprietors and amid hard-pressed times of the 1970's energy crisis in the West, the French government intervened to prevent its sale to National Distillers, an American conglomerate. In 1977, it was bought by André Mentzelopoulos, a self-made man of Greek origin who had built a retail and finance empire.
A chequered period of ownership during the C19th and C20th meant that, at times, Margaux lacked consistency. However, the Mentzelopoulos family at once instigated a wide-ranging programme of investment, in the vineyard, chai and chateau and commissioned highly-regarded oenologist, Émile Peynaud to oversee it. In December 1980, André Mentzelopoulos died suddenly, leaving the chateau under the direction of his wife Laura and daughter Corinne. The major concern was continuity in quality which took another leap in 1983 when the two were joined by talented winemaker, Paul Pontelier, who took over as the estate's young new director. Paul Pontelier remains at the helm almost 30 years later and under his stewardship Margaux has built an enviable reputation for its consistency and is frequently touted as the wine of the vintage. Pontelier has placed much emphasis on the Cabernet Sauvignon grape, considering it to be the major agent of class in Margaux wines and as such has steadily increased proportion of it in the Grand Vin; indeed the exceptional 2010 vintage saw its highest proportion yet.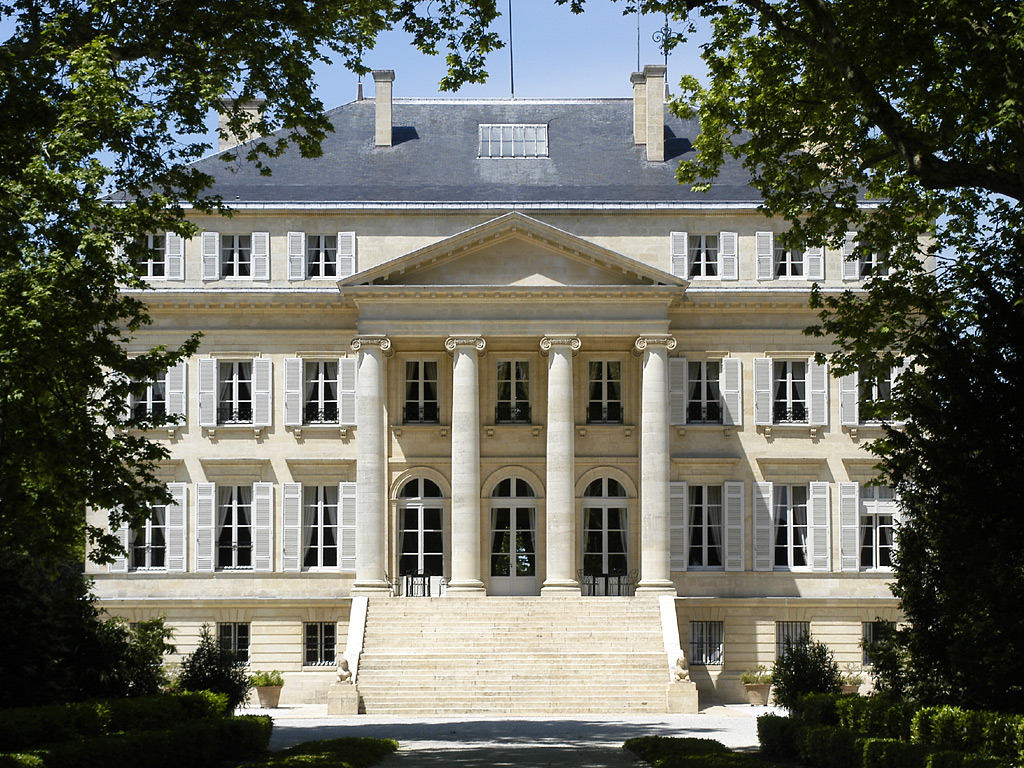 Vineyard & production
Margaux has 82ha./203 acres of vines planted to 75% per cent Cabernet Sauvignon grapes, 20 per cent Merlot, and 5 per cent of Cabernet Franc and Petit Verdot. Notably of late, a higher proportion of Cabernet Sauvignon goes into the Grand Vin than its distribution in the vineyard. Approximately 30, 000 cases are produced each year divided between the eponymous Grand Vin, just over 40%, Pavillion Rouge, the chateau's newly invigorated second wine and, unusually for the Marguax commune, 3, 000 cases or so of a white wine, Pavillon Blanc, made from 12ha. of Sauvignon Blanc and that has itself become overly more ambitious and appealing.
Fermentation takes place in oak vats for all wines and ageing is in 100% new barrels, with the Grand Vin seeing 22 months.
Style
Margaux is all about breed, weight and depth, with the true class of its terroir coming forth in the remarkable consistency, which has become its hallmark. Recent vintages, perhaps above all, have created wines that are particularly perfumed, elegant and richly fruited with exceptional length.
Top-rated vintages
prices as per May 2011.
Market
Margaux continues to hold its own, with robust demand from a new wine public in non-traditional markets., whereas overall, it has at times appeared undervalued vs v its First Growth peers. Meanwhile, the increasing old Cabernet Sauvignon vines, which appear to resist high alcohol levels, are forming an ever-higher percentage of the Grand Vin in seeming confirmation of the chateau's reputation for consistent elegance. Margaux, is for all reasons, a chateaux to continue to watch.
Liv-ex Power 100 ranking

Liv-ex Power 100 is a list of the top performers over the previous year and their position starting the current year. The indice traces the movement of chateau and other wines using a sophisticated weighting system based on average prices, production, notional availability and Parker Points.
Release price evolution
Chateau Margaux at a glance
Commune: Margaux
Soils: Light and with much gravel and some sand on well-drained sloped
Climate: Maritime
District: Medoc
Classification: 1er Cru Classe
Owner: Corinne Mentzelopoulos
Wine-maker: Paul Pontellier
Vineyard: 82ha/203 acres. 75% Cabernet Sauvignon vines, 20 % Merlot, 5% Cabernet Franc and Petit Verdot.
Vinification and ageing (grand vin): Oak vats, then 100% new oak barriques for 22 months
Production: 30,000 cases
Wines: Margaux (12,000 cases), Pavillon Rouge (15,000 cases) and Pavillon Blanc (3,000 cases)